Remarks of Senior Advisor Valerie Jarrett at the 2011 Nowruz Commission Gala Event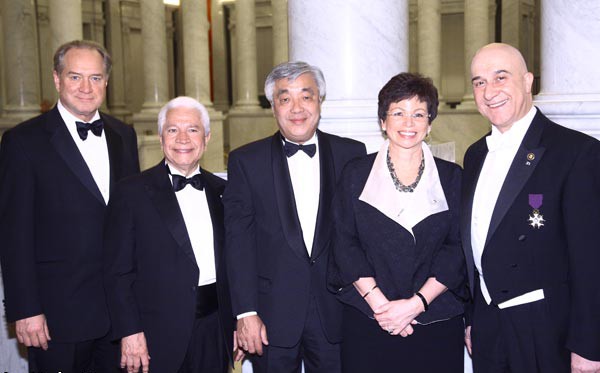 (left to right): Mr. Jim Clifton, Chairman of the Advisory Council; Mr. Nasser Kazeminy, Chairman of the Board; His Excellency Erlan Idrissov, Co-Founder; Ms. Valerie Jarrett, Senior Advisor to the President of the United States; The Honorable Bijan R. Kian, Vice Chairman and Co-Founder
Nowruz Commission Annual Gala Dinner
Library of Congress
March 17, 2011
Remarks of Senior Advisor Valerie Jarrett 
Salaam Alaikum
Mr. Scott, thank you for that kind introduction.
Ladies and Gentlemen, Mr. Kian and His Excellency Idrissov thank you for inviting me to participate in an event that is so close to my heart.
Let me also thank Gissou Kian, who launched the Nowruz Commission as its first President and who, I understand, is the driving force behind this organization.  And James Billington, the Librarian of Congress. Our gracious host.
I see a lot of friendly faces in the audience, including leaders from Congress, and the diplomatic corps; as well as many from the business and philanthropic communities.
Such a diverse gathering is altogether appropriate for this occasion.  As you all know, Nowruz is a celebration of renewal that unites people across an arc of territory that spans the globe—connecting celebrants in Iran and Afghanistan, throughout the Middle East and Central Asia, in China and, of course, here in the United States.
Because I spent the first five years of my life living in Shiraz Iran, Nowruz festivities are among my earliest—and fondest—childhood memories:
People traveled to Shiraz from all over Iran for Nowruz because the weather was so perfect there in early spring.
There was picnicking in the countryside on the 13th day.
I remember adults building bonfires and watching the older kids compete with each other by jumping over the fire.
My parents always had a steady stream of friends stopping by our home—many who brought me presents, coins and sweets. Yes, children always remember the gifts.
It was always a time that was full of joy, hopefulness and new beginnings.  I treasure those memories.
This year, the spirit of Nowruz—of new days and new beginnings—has taken on an even greater significance.
Nations are transforming before our very eyes. People across the Middle East and North Africa, who for generations have known only authoritarian rule , are taking their first, tentative steps towards democracy.
President Obama is a firm believer in the promise of this moment, and in the very real opportunity it presents for a better way of life to take root in these societies.
We have been so inspired to see the young people of the region at the vanguard of this change. We are in awe of their commitment, their courage and their sacrifices. They have already accomplished so much!
We also know that while there is a lot of hard work ahead— with a new generation taking ownership of its future, the change that is underway right now cannot be reversed.
The universal rights they are demanding—to speak their minds; to gather peacefully without fear of violence; to live under governments that meet the aspirations and values of their citizens—are common to all peoples, everywhere. And they must be met.
So, this year, at the start of Nowruz, spring has truly arrived. And we welcome that.
This season of change actually began two summers ago, in the birthplace of Nowruz—Iran. The core principles that we stand for were demanded by demonstrators in Azadi Square, foreshadowing the protests that changed the world in Tahrir Square.
It is also worth noting that the majority of Iranians—many of whom began to come of age during the tumultuous summer of 2009—were not yet born in 1979.
The United States supports their ongoing quest for justice, accountability, access to information, and political and economic opportunity.
As you know, from the moment he took office, President Obama has sought a new beginning with Iran, and he directly offered its leaders a fresh start on the basis of mutual interests, and mutual respect.
We, along with our international partners, made reasonable proposals to resolve our differences. But Iran's leaders rejected them, and chose instead to cling to the past.
And they have launched a brutal crackdown against their own citizens who step forward to exercise their basic rights.
As someone with deep ties to that remarkable country—and a heartfelt appreciation for its ancient and proud civilization—I find this situation heartbreaking.
The Iranian people, and especially the young people who will inherit their country, must have a chance to shape their future, and to participate more fully in the global dialogue, the global marketplace, and to hold accountable those who govern them.
This is what all people deserve.
In closing, I want to read part of a poem that adorns the United Nations headquarters in New York, and which the President has recited in previous messages on Nowruz:
It was written by the Iranian poet, Saadi:
"The children of Adam are limbs to each other, having been created of one essence."
I know from experience that the American people and the Iranian people have far more in common than we have dividing us. Because of that, I believe with all my heart that our nations will someday also celebrate a new beginning.
Thank you again for the opportunity to address this distinguished group.
Aid-e-shoma Mubarak.