Fourth Annual Nowruz Commission Gala Dinner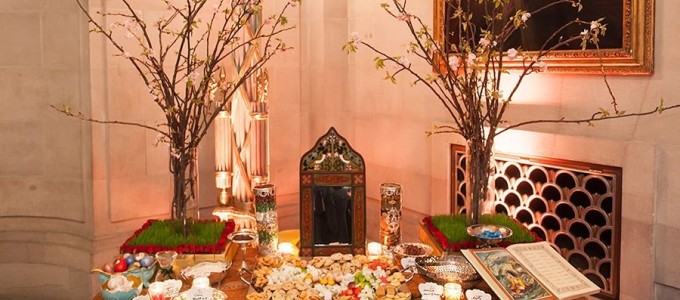 On March 16, 2013, Nowruz Commission celebrated its Fourth Annual Gala at The Andrew W. Mellon Auditorium in Washington, DC. Guests traveled from near and far to celebrate togetherness, giving, caring, and renewal of friendship at the arrival of spring. This year's event was attended by over 400 people, including diplomats, dignitaries, and members of the Afghan, Azeri, Georgian, Iranian, Iraqi, Kazakh, Kurdish, Kyrgyz, Russian, Tajik, Turkish, and Ukrainian communities. Special guests included Her Imperial Majesty Farah Pahlavi, His Excellency Elin Suleymanov, Azerbaijani Ambassador to the US, and Nowruz Commission Country Ambassadors Mr. Xavier Hermes and Mrs. Mary Darling, who represented France and Canada respectively.
Former CNN Anchor, Ms. Rudi Bakhtiar, served as Mistress of Ceremonies, opening the program with a presentation of Nowruz Commission's 2012 video.  The night continued with remarks from Chairman and Co-Founder, Nasser Kazeminy, President and CEO Gissou Kian, Vice Chairman and Co-Founder The Honorable Bijan Kian, His Excellency Muktar Djumaliev, His Excellency Namik Tan, His Excellency Kairat Umarov, and The Honorable Charles Rangel.
His Excellency Ahmet Davutoglu, Minister of Foreign Affairs of the Republic of Turkey, sent a Nowruz Message to Chairman Kazeminy, emphasizing the role of the Nowruz tradition. To highlight the evening, Chairman Kazeminy, Lieutenant General Mike Flynn, Vice Admiral Phil Collum, Major General Jay Santee, and Rear Admiral Garry White honored Nowruz Commission's Executive Director, Beeta Christine Rafiekian, for her dedication and leadership, naming her Global Nowruz Ambassador.
His Excellency Dussanbay Kasseinov, Secretary General of TURKSOY and Member of the Nowruz Commission Advisory Council, presented gifts to His Excellency Kairat Umarov, Kazakh Ambassador to the US, Chairman Kazeminy, The Honorable Bijan Kian, and to President Obama via Ms. Alice Wells, Senior Director for Russia and Eurasia at the National Security Council.
This year's event included cultural displays from Afghanistan, Azerbaijan, Kazakhstan, Kyrgyzstan, Tajikistan, and Turkey, in addition to the traditional presentation of the haftseen and haft meeveh. The audience traveled through the Silk Road with the sounds and colors of cultural musical performances by TURKSOY, Kanykei, Silk Road Dance Company, Ms. Veronika Yakubova and Ms. Gulmira Amurtayeva, and Ms. Samal Shaikenova.
To view the video from the 2013 Nowruz Commission Gala Event, please click here.
Images from the event can be viewed here on Nowruz Commission's Facebook Page.