Nowruz Commission Mourns the Loss of Board Member Galiya Umarova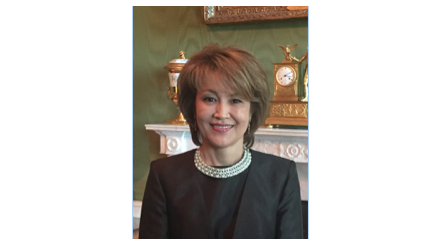 It is with great sadness and sorrow that our friend and colleague, Galiya Umarova, wife of Ambassador Kairat Umarov of Kazakhstan passed away in Washington, D. C. on January 4, 2016.  Galiya was an active supporter of Nowruz Commission, committed to education and improvement in the lives of families and children, not only in the country of her birth, but in countries beyond its borders.
Galiya was born and raised in Almaty, Kazakhstan's largest city and cultural center.  She met Kairat Umarov when they were both students in an English language class and shared married life with him for thirty years.  Their son, Gaini, works for an international consulting group in Astana, Kazakhstan's modern new capitol.
Ambassador Umarov and Galiya have been posted to the United States on three separate occasions during his diplomatic career, which has also included assignments in India and Sri Lanka as well as various positions within the foreign ministry of Kazakhstan.  Together they have traveled the world sharing the story of a 3,000 year-old culture and its important role in the historic Silk Road trade route which for centuries linked the East with the West.
Galiya was known for her elegance, grace and dedication to sharing the culture, heritage and development of her native country, once noting that "Kazakhstan is much like the United States, with multiple cultures of 140 nationalities living together in peace."  She embraced the mission of Nowruz Commission to protect and preserve the ancient celebration of Nowruz and bring together under its umbrella people from all ethnicities, nations and religions in friendship, sharing and caring.  Her passion for education and the care of children was evident in her contributions to Nowruz Commission.
Galiya was taken from us too soon, but she will be remembered as the loveliest of a wife, mother, friend and example of how to live a life dedicated to her country and humanity.  Nowruz Commission is proud to dedicate its 2016 Gift of Life program in her memory.