Highlights from 2016 Gala Event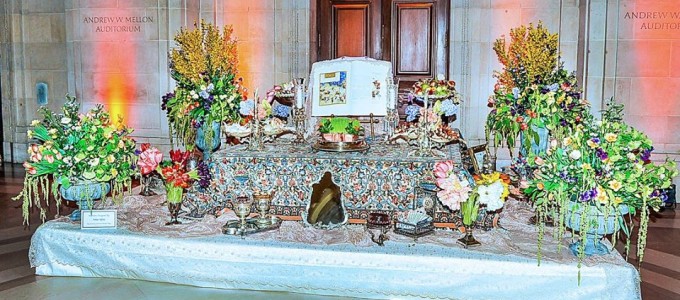 On March 12, 2016, Nowruz Commission celebrated its Seventh Annual Gala Event at The Andrew W. Mellon Auditorium in Washington, DC. Guests traveled from near and far to celebrate togetherness, giving, caring, and renewal of friendship at the arrival of spring. The event was attended by 500 guests, including diplomats, dignitaries, senior military leaders, and members of the Afghan, Azeri, Georgian, Iranian, Iraqi, Kazakh, Kurdish, Kyrgyz, Russian, Syrian, Tajik, Turkish, Turkmen, Ukrainian, and Uzbek communities.
Award-winning actor Cas Anvar served as Master of Ceremonies. The program began with a vibrant performance by Silk Road Dance Company with music by the world-renowned performer, Andy. The night continued with remarks from Chairman and Co-Founder, Nasser Kazeminy.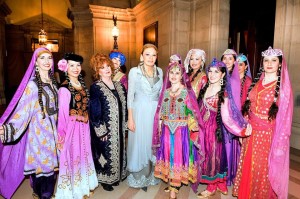 During dinner, guests enjoyed "On the Wings of Spring: A Journey to the Colors and Traditions of Nowruz," a video compilation of countries which celebrate this ancient festival. The music accompanying this presentation was composed especially for the Nowruz Commission. "Sounds of Harmony in the Spring" is now the official theme song of the Nowruz Commission.
Co-Founder The Honorable Bijan Kian spoke about the origins of Nowruz, after guests enjoyed another brief video, learning more about the history and tradition of Nowruz. Guests were amazed by the presentation of Gerard Senehi, who stunned the crowd with his mystifying performance. President and CEO Gissou Kian spoke about Nowruz Commission's international charitable programs over the past six years, honored the service of the late Galiya Umarova, a member of the Commission's Board of Directors, whose commitment to children, education, and building communities made a lasting impression on the organization. President Kian dedicated Nowruz Commission's 2016 Gift of Life Program to Mrs. Umarova's memory, and announced the One Child at a Time Initiative, created to give hope to refugee children.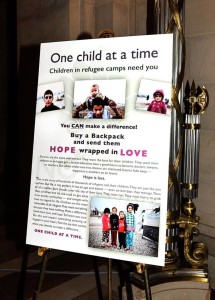 The audience traveled through the Silk Road with the sounds and colors of cultural performances by TURKSOY, back again with us for the third time, but this time with children from Azerbaijan, Kazakhstan, Kyrgyzstan, and Turkey.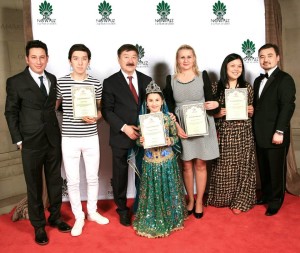 The Commission was honored to welcome Her Excellency Gulshara Abdykalikova, Secretary of State of Kazakhstan to share a Nowruz message. The Commission was grateful to His Excellency Dussanbay Kasseinov, Nowruz Commission Board Member and Secretary General of TURKSOY, who presented a Nowruz gift received by Chairman Kazeminy.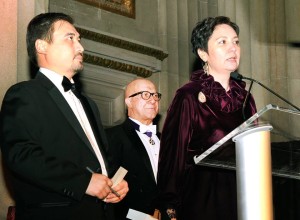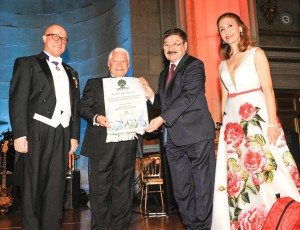 The program ended with a lively musical performance by Andy, who has earned international praise for his acting and musical performances. He has been hailed as one of the best international singers, called "the Persian Elvis."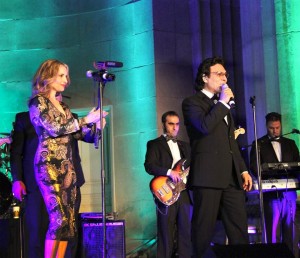 Following Nowruz Commission tradition, the beautiful green and gold rooms of the Mellon Auditorium displayed unique cultural items from Afghanistan, Azerbaijan, Kazakhstan, the Kurdish Region of Iraq, Kyrgyzstan, Tajikistan, Turkey, Uzbekistan, in addition to the traditional presentation of the haftseen and haft meeveh. A number of items were donated to our Silent Auction, including several beautiful works of art by Kiumars Kavousi, Nasser Ovissi, and Nowruz Commission Ambassador Dr. Kamran Khavarani, who has donated his works each year since Nowruz Commission's inaugural event. The silent auction also included a Persian carpet donated by Persico Oriental Rugs, a case of Caravan wine and a garden lunch donated by Darioush Winery, a metal figure chess set and a bottle of Snow Queen vodka, donated by the Embassy of Kazakhstan, a wine tasting for 6 at Sonoma Cellar, and a 5-night stay at the famed Goldeye Island Outpost Resort in Oracabessa, Jamaica. Nowruz Commission is extremely grateful for the many kind gifts donated by our supporters. The funds raised from these items help save lives and fulfill our mission.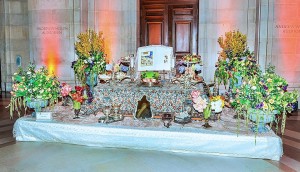 A special thanks to all the volunteers and friends of Nowruz Commission, embassy staff members, vendors, and venue staff members who work tirelessly to make this event possible. Looking forward to celebrating with you again in 2017!